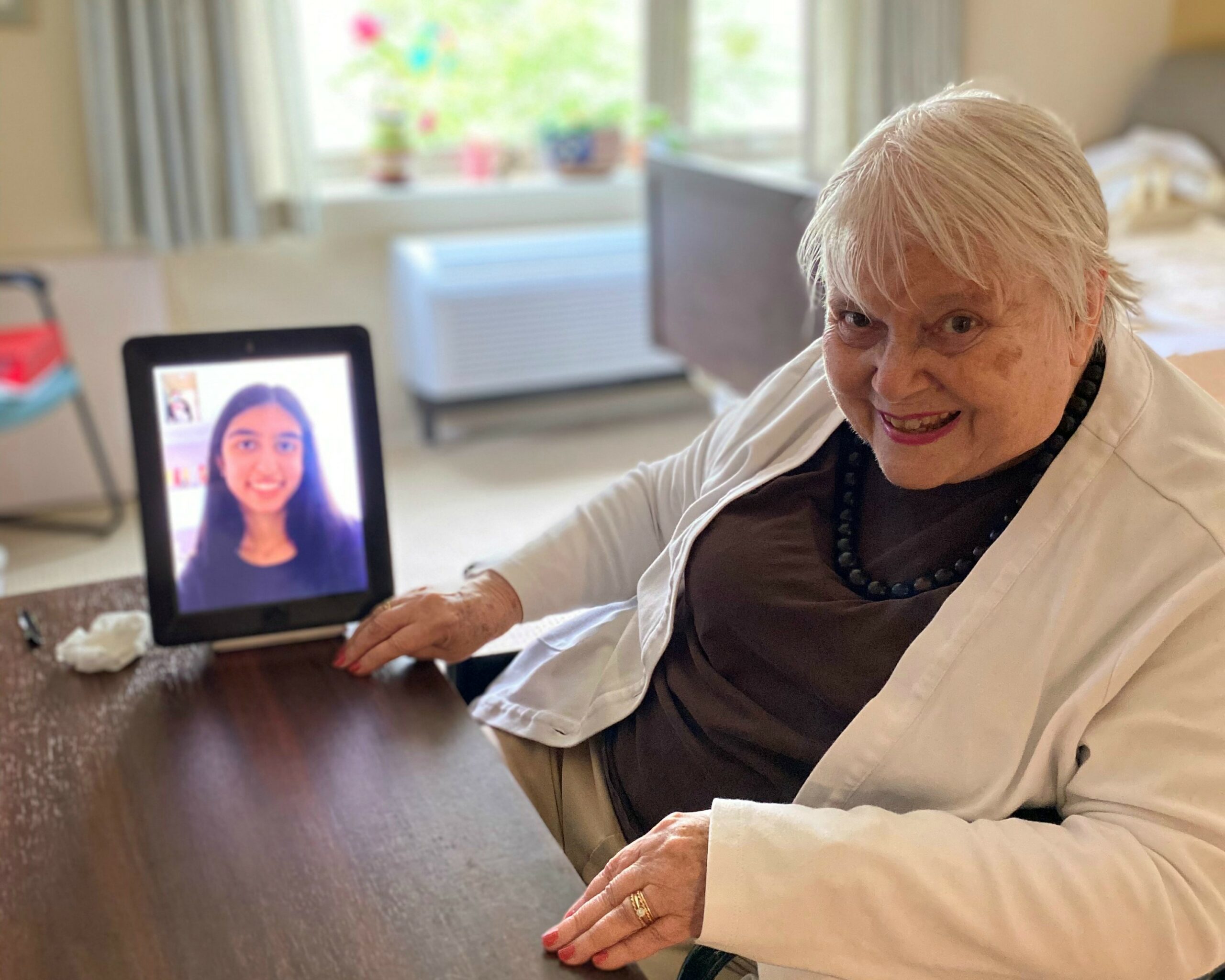 Young people and their abundant use of technology often get a bad rap. In the instances of two young area ladies, however, their thoughtful and creative use of technology is bridging generational gaps, alleviating isolation, and bringing great joy to seniors at The Springs Health and Rehabilitation Center at Monarch Landing senior living community in Naperville.
At 15-years old, Maya Joshi from Chicago launched Lifting Hearts With the Arts after having been inspired by her grandparents. "In mid-March, after the stay at home order began, the first people I thought about were my grandparents. I regularly see them, but because of the pandemic, I couldn't do that. Instead, we started doing video calls with them. After witnessing how much joy they got from seeing us, I thought about sharing that with other seniors who are isolated." Maya reached out to Chicago-area retirement communities to determine which would welcome a program connecting teens with their residents on a regular basis, through FaceTIme, Zoom, or Skype. She and her volunteers now work with 18 communities, and to date, have hosted over 819 interactions. The meet weekly with approximately a dozen residents in skilled care at The Springs.
Volunteers have been eager to participate. Maya first recruited her twin sister and a few close friends to work with her. Since earning tremendous publicity, they've attracted a veritable army of volunteers with more than 45 actively participating, and 20 more who have applied. "A lot of the volunteers were staying at home and wanting to do something to help others but not quite knowing what to do. They love meeting new people and regularly do video calls with friends anyways. So, it seemed to be a natural and fun thing to use this platform with people who are completely different than us," said Maya.
The young people and seniors are thoughtfully matched for their weekly virtual face-to-face get-togethers based on similar interests and hobbies, focusing on the arts: visual performing, language, and culinary. The interactions include sing-alongs, performances, discussions, games, reminiscing…whatever the resident enjoys.
"The feedback has been amazing. Residents love having the event and someone to talk to on a regular schedule. It gives them a way to meet new people without leaving their apartments," reported Maya. "The friendship we've made will go on forever. When we can go back to normal, we want to meet all of the residents and will keep on connecting with them forever."
Emma Dvorak, life enrichment manager at The Springs, is facilitating the program at the community. "Each session is scheduled ahead of time, and it's great to see residents looking forward to their personal 'appointments,'" she said. Some residents require assistance with the technology, which Emma's team provides. Others are able to meet with their students independently. "It's been tough providing opportunities for socialization during the pandemic, so connecting with someone else on the outside is really amazing for them," said Emma.
Seventeen-year-old Madison Brown of St. Charles was similarly motivated to do something for older adults by her grandmother, who is a resident at Monarch Landing. She explained that because of the stay at home edict, her family was limited to visiting her grandmother via telephone visits. "The calls go on for hours, and my favorite parts are when she lapses into stories from her past," Madison said. "I'm very passionate about storytelling and its ability to highlight the powers of words and community in an individual's life. I wanted to create something that could continue and produce long-lasting relationships between volunteers and residents. It hit me: a pen pal program would be the perfect opportunity for committed volunteers and isolated senior citizens." Madison founded Letters for Monarch, a pen pal program between her peers and residents in the senior living community. Teen volunteers are matched with seniors with similar interests who then connect through letters that they exchange. The letters are typically emailed, and then printed for the residents. Not only does this program provide an opportunity for the residents to share their stories, but also helps gives teens a way to help others. "The reality is, teenagers want to help, and they want to make a difference, but I think a lot are just not sure how. I want to try and promote programs like this to offer a change of pace for kids; to give them an opportunity to slow down, write a letter, make a friend, and maybe even find out a little bit more about themselves in the process," said Madison.
She first enlisted her friends to help her, and then started using the website AllForGood.org to recruit more volunteers. "I screen the volunteers I don't know personally to ensure they all have good intentions, and through that, I've been able to meet a lot of great people from all over," she said. To date, she has approximately 50 teens, not only from the Chicago area but also New York, New Jersey, Kentucky, Texas, Washington, and even as far away as the Philippines, Brazil, and Vietnam. " In the future, I would love to see kids more empowered and confident in themselves through volunteer opportunities like these. I ultimately want them to know that they can have the power to provide hope and be a light in their communities," she said.
Madison noted that connecting the generations is one positive thing coming out of the pandemic. "This virus has caused everyone to be vulnerable and, as a result, more empathetic and charitable. We all need someone to reach out to us from time to time to be a light, offer friendship, and provide a positive influence. This virus has amassed great opportunity to do so, and I think the important thing is to maintain these relationships and connections long after the crises that influenced them has passed."
Emma, who started working at Monarch Landing as a teen server in the dining room and has been promoted through the ranks since her college graduation, is thrilled with the commitment and caring of the young people. "It's amazing; it's unbelievable that young people want to do this and connect with seniors and volunteer their time in such amazing ways. And it means so much to the residents."
Donations
When Maya realized that some senior living communities are unable to participate in Lifting Hearts Through the Arts because of limited technology, the group decided to become a not-for-profit organization and raise funds to support the initiative within the communities. For additional information including GoFundMe, Amazon Tech Wishlist, used device donations, and more, visit LiftingHeartsWithTheArts.org.
For additional information about Letters for Monarch, email LettersForMonarch@gmail.com.